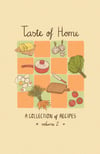 A collection of recipes that fulfill the sense of home, be it something you've grown up eating at your grandparents house during summer, to cooking with your roommates on a rainy night.
This volume features 15 artists and 18 recipes.
It's a 40-page saddle-stitch, soft cover book and sized at 5.5 x 8.5 inches.
Chamomile Press, IG @chamomilepress